The Fusilux series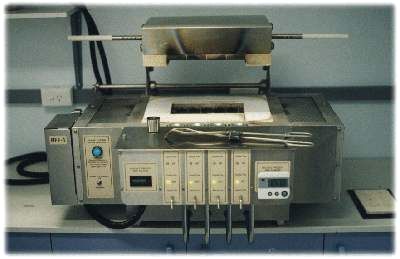 The Fusilux series of fusion bead casting machines are manual pouring machines with two or four crucible/mould models. The release of the new, Fusilux Generation 2 machines has seen us improve the design of the original Fusilux without losing any of the features that make it an economical, flexible, easy to use and reliable fusion machine ideal for production environments and busy labs.
Features of the Fusilux include:
All electric- why electric?
Individual mould removal and cooling
2 or 4 crucible / mould capacity
16-32 samples per hour output (depending on sample type) for 4 crucible / mould capacity
Variable cooling rate and time
No reheating time between samples
Variable agitation during fusion
Controlled environment during fusion - options
Single service plug and play machines - portable
Unique edge lifters for safe and easy removal of moulds
Completely covered fusion process
Fast rise time - 20mins to 1050&degC from cold
3000W power
Maximum temperature of 1200&degC, normal operating temp of 1050&degC
Runs off standard 240V or 110V option, single phase power supply